FAQ
---
1.What is GBox?


GBox is an app that provides a variety of features, including privacy protection and the ability to run multiple copies of an app. You can also use apps relying on GMS on devices that do not support GMS through GBox.

With one-time installation, you can enjoy the features of GBox on any Android phones. GBox will never collect any personal data. Your privacy and data security are ensured.
---
2.How is GBox used?
GBox serves all Android models.You can download GBox from the gboxlab.com or app markets such as Galaxy Store, GetApps, AppGallery and else. (Due to the policy of different platforms, there is no uniform launch date)
For GBox download, please follow the procedure below.
1.Search and install GBox from the app market on your phone. Open GBox once the installation finished.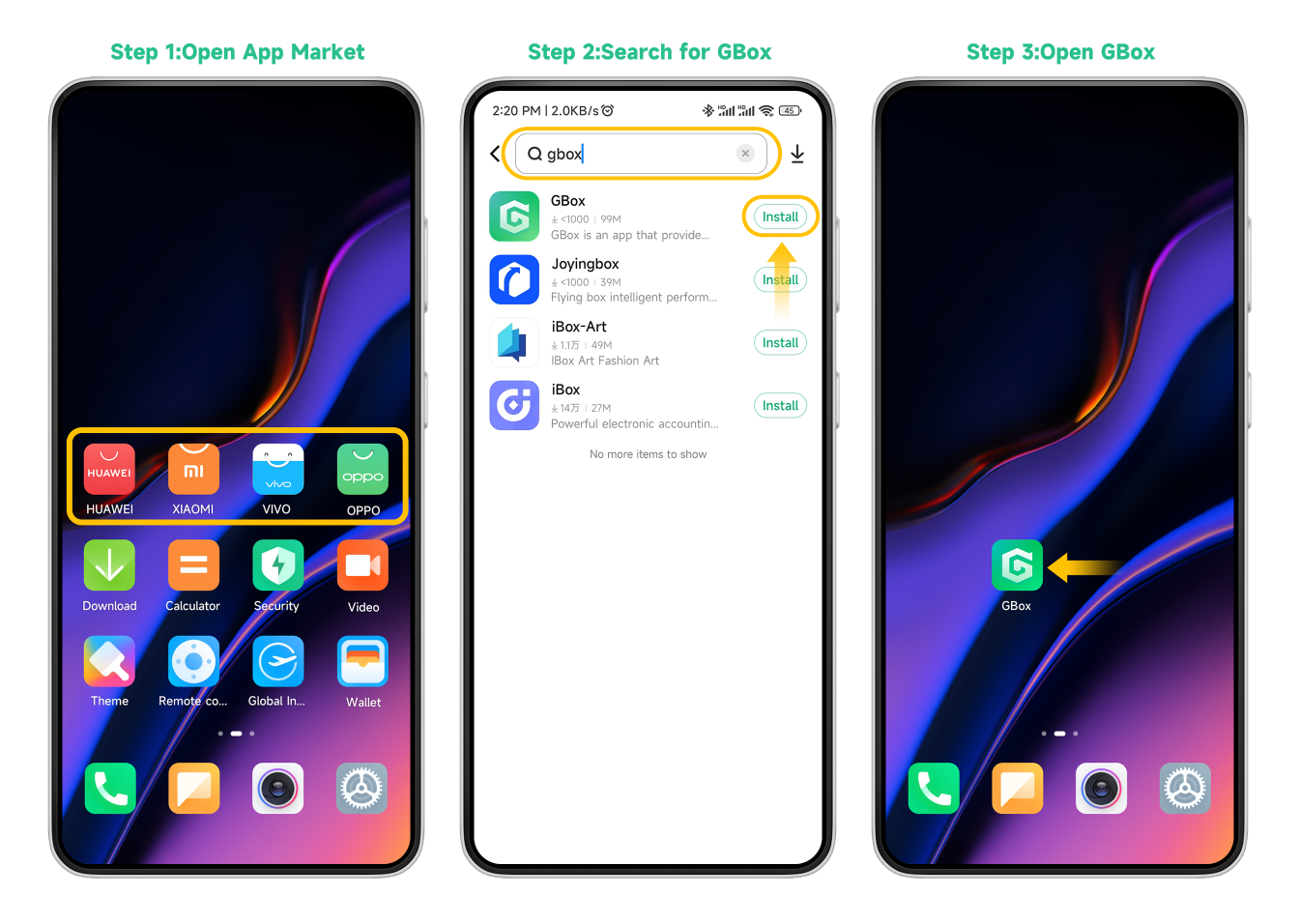 2.Click Agree and DISABLE. Choose the app you need.
3.Allow all permissions. Sign in your Google account.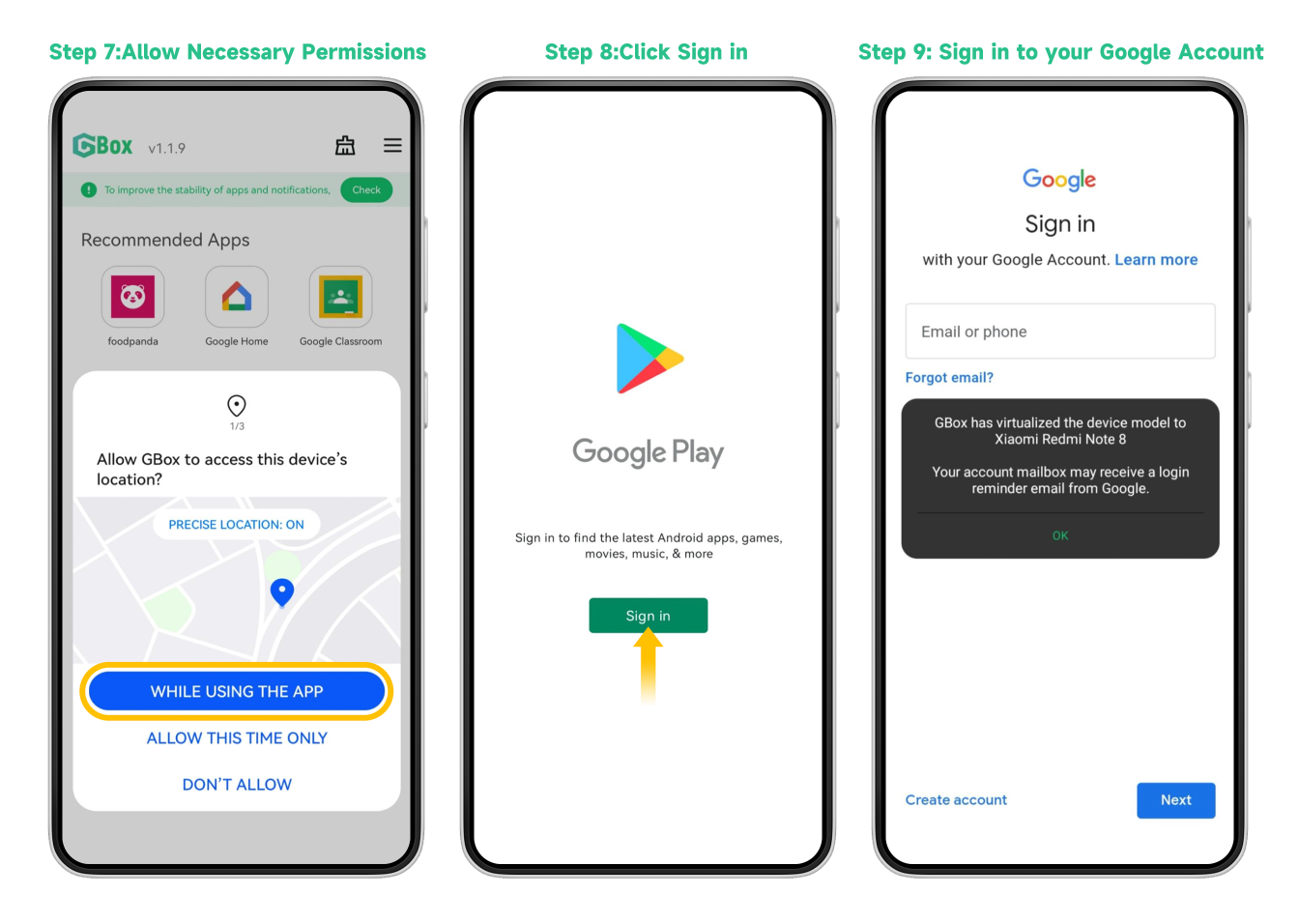 4.Install the app you need. Add the app to home screen. Next time you can open the app from GBox homepage.
---
3.Difference between GBox and other similar apps.


Compared with tool apps with similar functions, GBox provides a smoother experience and consumes less system resources. We also guarantee a No-Ads experience only in GBox.


---
4.Why GBox apply for so many permissions?


GBox applies for necessary permissions to ensure the apps can function properly. For example, GBox applies for the notification permissions to ensure users can receive the message notification in time.


---
5.Why is your phone lagging, battery draining fast or memory usage too high?


The storage space required by GBox is relatively small. What occupies the device storage space are the apps you installed. Besides, due to the difference of device performance, you may experience issues such as lagging, power over consumption or high memory usage. We recommend you to report any abnormal issues through our customer service channels. GBox will continue to optimize the performance to bring the best experience for users.


---
6.Why you receive a notification Email from Google?


GBox enables apps to be installed and to function well on some devices by providing a virtual environment with necessary Google services required. However, for the Google Services program, it will be recognized as a new device from other brands using Google services. Thus, your login behavior may trigger an email alert that your Google account is being used in multiple devices.


---
7. Why does it take such a long time for "Initializing GMS Service"?


Due to network instability, you may need more time to start GMS Service. Thank you for your patience, you will be able to use a series of applications normally after starting GMS Service.


---
8.How can I update the app added in GBox?
If you open an app from Gbox and it requires an update, you can update the app through Google Play normally. If you want to manually update an installed app, please long press the app icon on the homepage and choose the update option. If it needs to be updated, you can confirm it.
---
9.How can I delete the app added in GBox?
From the installed apps on the GBox homepage, long press the app you want to delete. Then you can choose the delete option and confirm. If you want to remove the shortcut of home screen, long press and click to remove it. If you want to preserve the shortcut, you can click in and reinstall it next time.
With one-time installation, you can enjoy the features of GBox on any Android phones. GBox will never collect any personal data. Your privacy and data security are ensured.
---
10.How to close the notification push "GBox is running?"
You can follow the steps below to turn off the notification. Please keep the GBox running because it is necessary for your experience.
Step 1: Open your GBox
Step 2: Click on the left or right upper
Step 3: Click Settings
Step 4:Choose to click open/close the "Background keep alive" from Notice
---
11.Where can I get support for issues?
You can contact us on social media such as Facebook, Twitter, Instagram and YouTube. We are willing to support you for any issues you have.